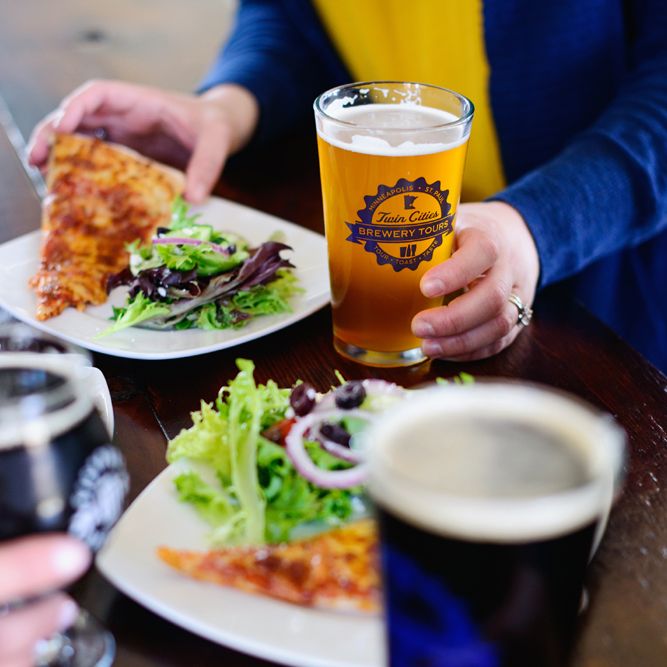 Silver Experience
With the silver package you get everything that is same in bronze package plus an additional hour and lunch to be catered in. So this means you will be with us for 4 hours plus food! You will enjoy touring up to 3 different breweries of your choosing and we will have lunch catered in! You will also receive a pint of beer at each location. You also have the option to try out our new open-air fun bus or our luxury motor coach bus.
What's Included
Up to 4 hour experience and up to 3 breweries with food included
Select your pick up location, the Open Air Bus only runs in Minneapolis or St. Paul but the luxury enclosed bus is available any where in the metro
Sample local craft beer - pint at each location included
Snacks 
Bottled Water
Cooler to store your growlers in
Fun and knowledgeable tour tour
Professional driver
New open air bus or enclosed luxury coach bus
Gratuities for brewery staff, tour guide and driver
Add Ons
Add on additional time - $150 per hour
Add on an additional brewery visit - $9 per person
Behind the scene tour at 1 brewery - $10 per person
Have food catered into a brewery
Have private dining arranged at a brew pub or restaurant
Include a city sight seeing tour
Need a place to have a meeting prior or after the tour?  How about a brewery?
Beverage Rules
You are allowed to bring a cooler with ice and beverages.  Beverages in glass are NOT allowed.  Hard liquor is NOT allowed.  Beer in cans or plastic are allowed.  Wine, hard lemonade and hard cider is allowed. Soda, water and non-alcoholic beverages is allowed.
Pricing
1-12 people:
13-30 people:
31-50 people:
more then 50, no problem, just contact us for pricing
Service Area
We are partnered with breweries all over the metro area.  With our Open Air Bus we only operate in Minneapolis or St. Paul.  All our other transportation operates all over the metro and we can include a custom pick up and drop off outside of the metro area too.

" width="600" height="450" frameborder="0" style="border:0" allowfullscreen>