Independence Day in Minneapolis
Posted:
Jul 2nd, 2018
10:13 am
One of the best things about the Twin Cities is the Firework displays that light up the Minneapolis Skyline. Hundreds of people come out to enjoy the show. 
We love sharing it this time of year so that we can brag (a little and a lot) about our love for Minnepaolis. As locals and resdients of these great cities, we'll share our top advise for viewing the best fireworks. 
1. Find one of the amazing eateries around the Mississippi River and enjoy local, fresh tasting foods and drinks. 
2. Get to a viewing location early-You don't want to miss it! 
3. Bring something to sit on- The grass is great and cozy but you want a blanket or chair to sit back and enjoy!
4. Be on either side of the Mississippi River for the best view- Really, as long as you are at the River in Minneapolis, you'll be able to enjoy the spectacular view. 
5. Bring your favorite beverage and snacks. 
6. Make friends with the people around you and get to know the diverse communities that enrich the Minnesota culture! 
Happy Independence Day from Experience the Twin Cities!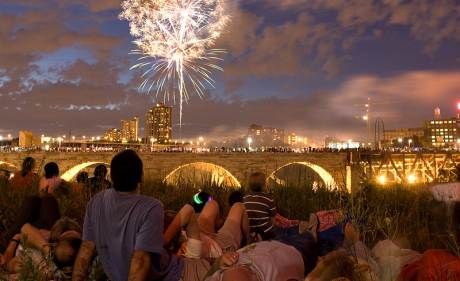 Minneapolis Riverfront Firework Show
photo from Meet Minneapolis.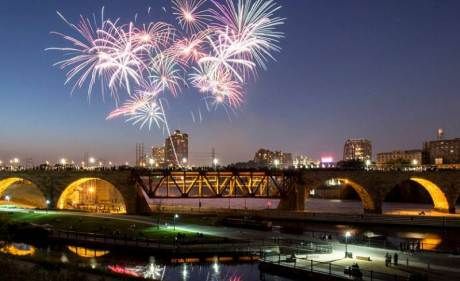 Stone Arch Bridge Firework Show
Photo from Meet Minneapolis.